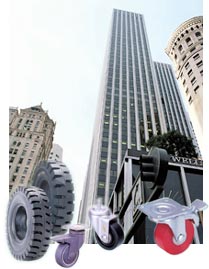 SHUN GIN is the leading professional manufacturer of transporting system wheel. Product range includes wheel and castor for business and industrial purpose, and cushion tire for tractorˇBflat cartˇBforklift and bulldozer etc..
Thousand kinds of wheel, the pay-load is from 20kgs up to 35000kgs . Exporting to world -wide, more than twenty countries.
SHUN GIN was established in 1964 and from then on we have been bearing the spirit of creation & innovation, and the courage to pursue high-rank goal and level. Our core policy is continuely to research, manufacture and sell good quality and durability product, which to provide convenienceˇBsafety and efficiency transportation for the customer.
SHUN GIN have been approved with ISO-9002 certificate in1999. We will continue to develop relative product for transportating system. Our goal is to contribute all product to customer with safetyˇBconfidence and best quality.